They joined as peons but went on to etch their fortune at HC library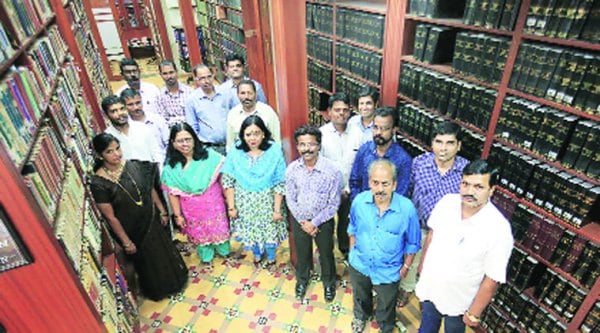 Bombay High Court library staff. (Ganesh Shirsekar)
Written by
Aamir Khan
| Mumbai |
February 26, 2015 2:15 am
When 48-year-old Sachin Ambolkar decided to be a chauffeur to a Bombay High Court judge, he had no idea how the forthcoming years of his life would shape up. Ambolkar is now among a group employed in the Bombay High Court's Judges' Library who say they are living their dream, courtesy a "driving force" in the form of the chief librarian who persuaded them to pursue higher education. Motivated by chief librarian Uma Narayan, Ambolkar went on to complete his graduation and is now an assistant in the library. What helped Ambolkar bag the job was his brief stint with a private library when he was in school, at a meager Rs 90 per day for a four-hour shift.
Mangesh Mhaskar's tale is similar to Ambolkar's. With a Class 12 certificate, Mhaskar started out as a peon in the library in 1998. He now holds three degrees – a bachelor's in commerce and library science, and a masters in library science.
"I used to pick up books from the library and hand them to staff in the judges' chambers or courtrooms, but always felt the need to achieve something more," Mhaskar says. Reminiscing how his selection as an assistant in the library turned out to be the happiest moment, Mhaskar later found balancing studies and work quite a task. "Narayan ma'am was a big support then. She pushed us so that we could accomplish better things in life," he says.
Now the section officer and designer of the Judge's Library web page, Anant Pawar also started off as a peon delivering books to judges. After Narayan introduced computers in the library in 1998, Pawar developed a keen interest in learning the nuances of operating them. "The urge to learn something new kept me going. Narayan never made a fuss over mistakes I made on the computer. She would just rectify them," says Pawar, who joined the library in 1986.
He may have only completed Class X, but Pawar now handles the digitisation section and works on modification of the library's web page, the only high court library webpage in India.
Another inspiring story is that of library assistant Suman D Raut who joined as a peon in 1994, but now holds bachelors degrees in arts and library science. Raut's father served as a "chobdar" in a judge court and wanted his son to complete graduation. "He, however, passed ssss when I was writing my Class 11 exams. To fulfill his dreams I took time out from work at the library and pursued higher education. Narayan Ma'am gave me the leeway to balance both," Raut says.
Then there is Rajesh Jadhav who joined the library as a peon and is now an assistant. Jadhav says, "Narayan Ma'am's constant scolding made me realise the dividends that come with higher education." Library clerk Arjun Shinde, who works in the billing section, had a son pursuing engineering, but he (Shinde) was persuaded to complete his bachelors degree, studying along with his son.
The secret to the success of the library, all of them – Ambolkar, Mhaskar, Pawar, Raut and Jadhav – say is team work. Narayan, the driving force behind the success stories, says, "Their eagerness to learn has helped all of them reach where they have. The key lies in retaining old hands and enhancing their skills rather than hiring new ones."
Source: The Indian Express dated 26/02/2015